Zofona > Zofona Seoul > Weblog South Korea > Archive weblog 2005 > weblog Korea Dec 05
---
weblog Korea Dec 05

Almost New Year in Korea, this is the countdown clock if you want to watch it on your computer. Here you can read more information about activities and traditions in Korea on New Year's eve. We wish everyone all the best in the coming year. We also have a wish, another interesting country this summer after leaving Korea. (posted by Jitze, 31/12/05)
---------------------
Today I went to the new opened National Museum near Ichon station (exit 2). Till the end of this month entrance is free and as a real Dutch person I like to do things the cheap way. When I got out of the metro I had already a feeling that I might regret my decision to go to the museum. It was crowded already at the station and coming closer to the exit I was part of a hughe "exodus" of people who wanted to visit the museum. First I waited for my landlady outside the station and I watched the people walk by. Finally I saw my landlady and we walked to the museum, went to the ticket booth for our free ticket and followed the rest of the people to the entrance. But then we (and the other people) were whistled back and had to make a u-turn in order to line up at the end of a 150 meter long queue. This way we entered the museum and this way we were supposed to take a very quick look at the artifacts shown. Around noon it became less crowded (all the Koreans were lining up in front of the food court, no joke) so we could walk around and look at things we wanted to look at. It's a nice museum with a lot of different things to see, Korean and Chinese pottery, Buddhist artifacts and statues from Korea and other asian countries, the history of Korea, the development of the Korean language and calligraphy and so on. Information is written in English and Korean. We did this museum in 4 hours but it is better to go in terms, it's too much for one day. I saw there is a children's museum as well and I will go there with my son one day, but not during holidays or when they have free tickets. (posted by Christina, 29/12/05)
-----------------
Merry Christmas from us to everyone reading this. Soon our foto report called 'X-mas in Seoul' (posted by Jitze, 25/12/05)
---------------------
Google is more than a standard search engine, I tried groups to find something interesting. The group soc.culture.korean has many topics related to Korea, just check it out. (posted by Jitze, 21/12/05)
---------------------
In the past I already wrote about a game which I play when I smoke a cigaret in my computer room. It is a trading game called Miniconomy. I am trying to promote it a little bit, you could do me a favour by going to the website of Miniconomy and create an account. Then select Kronenburg as starting city and become rich and famous in this trading game. In the beginning it might look difficult but it is a nice game to play. Create a shop, start selling and become the richest trader. If you don't like it, join a club and become politician, mayor, officer, criminal. For fun, if you create an account, use korea1, if taken korea2 .... so I can see who actually made an account because of this posting. (posted by Jitze, 18/12/05)
---------------------
In Friday's International Herald Tribune I read something about Borat Sagdiyev, the fictious, self-styled second-string Kazakh journalist. In fact it is British comedian Sacha Baron Cohen, well known from 'Da Ali G Show', a television comedy in Britain and the United States. Borat was host of the MTV Europe Awards in Lisbon. Hilarious but not in the opinion of the Kazakh government. They blocked his previous www.borat.kz website. A spokesman from the Kazakh Ministry of Foreign Affairs even reacted by stating that his country was not planning any lawsuits. The fact that this spokesman reacted is even more funny. Anyhow, Borat changed his site to www.borat.tv. Have fun watching the movies, I like his sense for humor. (posted by Jitze, 17/12/05)
---------------------
More ideas for spending some quality time during X-mas, check this tour2korea page. Everland even has 1000 christmas trees, so start counting... (posted by Jitze, 16/12/05)
---------------------
I received this text by email, a nice piece of Korean English (and yes, I know that my English also sucks).

Contemporary Dutch Photography
(hold in Kumho Museum)
From this Friday, 16th December 2005 to 27th January 2006,
the contemporary Dutch Photography exhibition will take place in Kumho Musuem.
This exhibition is curated by Minseong Kim and Willem van Zeotandaal who is Dutch curator.
We hope suggest to make portrait photography good positional in Korea art scene as through the exhibition .
Could you experience warm story of human by Dutch photography in our exhibition?

I would like to invite you to the Opening Ceremony hold as follows.


Yes, I want to experience warm story of human (whatever that may be), and if you are interested as well: Here you find information about this exhibition, and here the museum site for the 'access' map in order to get there. (posted by Jitze, 15/12/05)
---------------------
I added new pictures from the 2006 Hyundai Santa Fe and the SsangYong Actyon, for all the (Korean) car freaks out there. (posted by Jitze, 12/12/05)
---------------------
Today Yde and I went to Seoul tower, correction, the N (new) Seoul tower. Because of the renovation two of our visitors, Coen and Dirk, could not visit the tower this summer. Now the tower is New?? and the observation deck is open for public. I already thought it opened because of the new illumination of the tower. In the past it was just yellow. They adjusted the illumination to refined Korean taste. The tower is changing colours all the time. Green, purple, red, yellow, white, blue. Certainly a change for the worse. I am waiting for the first traffic accident because of distracted drivers. Even from our house it looks crazy. Anyhow, the view is magnificent as you can see, look at the shadow of the tower.




And like I promised, this month we are focused on Christmas, therefore I asked these ladies to pose for me. Look at the nice silver boots. :) They were working at the observation deck but I really don't have a clue what they were actually doing. (posted by Jitze, 11/12/05)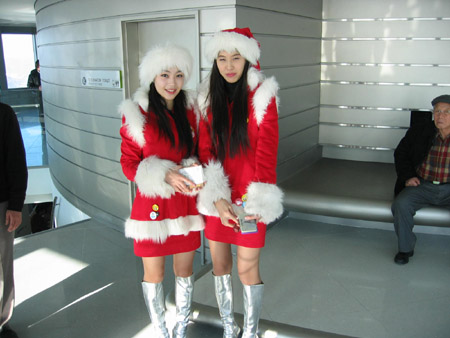 ---------------------
Last Sunday, December 4, we celebrated 'Sinterklaas' in Seoul at the residence of the Dutch ambassador. Look at this picture of Yde being certainly not afraid of 'Sinterklaas'. He just wanted presents. (posted by Jitze, 11/12/05)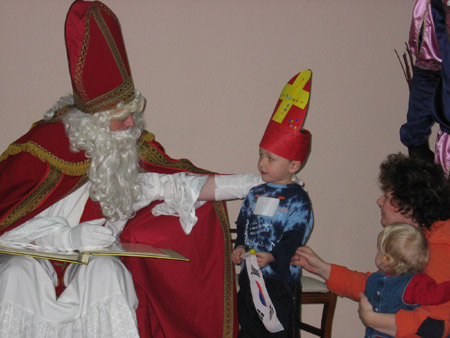 ---------------------
I already wrote about the reconstruction of our office. Watch this small movie, I guess I hate old cabinets. The Korean influence must be the stupid greeting before kicking some furniture ass :)) (posted by Jitze, 10/12/05)
---------------------
It's good to be a man because...
Your last name stays put.
The garage is all yours.
Wedding plans take care of themselves.
Chocolate is just another snack.
You can be president.
You can wear a white T-shirt to a water park.
Car mechanics tell you the truth.
You don't give a rat's ass if someone notices your new haircut.
The world is your urinal.
You never have to drive to another gas station because this one's just
too icky.
Same work... more pay .
Wrinkles add character.
Wedding Dress $5000; Tux rental $100.
People never stare at your chest when you're talking to them.
The occasional well-rendered belch or fart is practically expected.
New shoes don't cut, blister, or mangle your feet.
Your pals can be trusted never to trap you with: "So, notice anything
different?"
One mood, ALL the damn time.
Phone conversations are over in 30 seconds flat.
You know stuff about tanks.
A five-day vacation requires only one suitcase.
You can open all your own jars.
Dry cleaners and hair stylists don't rob you blind.
You can leave the motel bed unmade.
You can kill your own food.
You get extra credit for the slightest act of Thoughtfulness.
If someone forgets to invite you to something, he or she can still be
your friend.
Your underwear is $8.95 for a three-pack.
If you are 34 and single, nobody notices.
Everything on your face stays its original color.
Three pairs of shoes are more than enough.
You don't have to clean your apartment if the maid is coming.
You can quietly watch a game with a buddy for hours without thinking:
'He must be mad at me.'
You don't mooch off other's desserts.
You can drop by to see a friend without having to bring a little gift.
You are not expected to know the names of more than five colors.
You almost never have strap problems in public.
You are unable to see wrinkles in your clothes.
The same hairstyle lasts for years, maybe decades.
You don't have to shave below your neck.
Your belly usually hides your big hips.
One wallet, one color, all seasons.
You can "do" your nails with a pocketknife.
You have freedom of choice concerning growing a mustache.
You can do Christmas shopping for 25 relatives, on December 24th in 45
minutes. (posted by Jitze, 10/12/05)
---------------------
I was watching a Dutch programm on the internet and someone spoke about Fabchannel. On this website you can watch live concerts performed by a lot of different bands. Like now you can see Madness. Some of the concerts are really live with a delay of 30 seconds. They also have an archive with approx. 430 concerts, so check it out and see if you can find your favorite band/artist. The concerts are recorded in Paradiso and De Melkweg in Amsterdam. For viewing you need macromedia flash player 8, if you don't have it you can install it by clicking on this link or through the Fabchannel website. Enjoy! (posted by Christina, 09/12/05)
---------------------
Yesterday evening I went out for a drink with some colleagues from the Netherlands who came to help with the renovation of our office. Because we finished the renovation we went to a bar to celebrate the end of this project. On our way back we saw some posters of a musical. You won't believe the name unless you check this link. Urinetown, the musical, to pee or not to pee! (posted by Jitze, 08/12/05)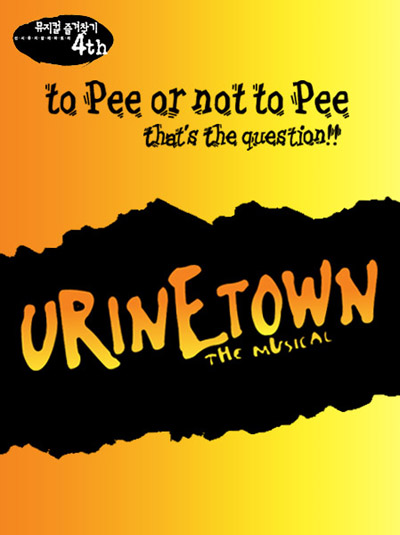 ---------------------
If you think of Christmas you might think of the Salvation Army. At this time of year people traditionally give more money to the Salvation Army. At least this Army is not dangerous. You actually see them do good work. I have seen them distributing food to homeless people at the central train station in Seoul. One thing the South Korean Salvation Army should improve slightly with their collected money is this website. The movie starts automatically and was taped in front of Seoul city hall. Warning, bad sound alert! Turn down the volume of your speakers. I don't have any idea what it is all about, maybe about collecting more money this X-mas? (posted by Jitze, 05/12/05)
---------------------
I searched for typical Korean Christmas food but I could not find much. I did found one of my favourite dishes which I eat during lunch time. Gamja-tang is a nice and tasty dish, according to this recipy it's also healthy. Just order it at several different lunch restaurants and figure out which one you like best. Every restaurant owner (most women) has their own secret recipy to make the taste of gamja-tang different from the others. The restaurant where I usually eat gamja-tang certainly doesn't look fancy but the dish itself and the friendly (women) restaurant owner compensate for restaurant appearance. I will search again to find a typical Korean Christmas diner if it excists. (posted by Jitze, 05/12/05)
---------------------
I found a very interesting article on North Korea, worth reading. It's about the arirang festival and the possible impact this festival made. As many as 100.000 South Koreans visited the North in 2005 according to the Minister of Unification (yes, that's a Ministry over here). (posted by Jitze, 01/12/05)
---------------------
Time is flying, we started the renovated website and weblog in March, now it's December. This month we will try to log about X-mas and new year celebration in South Korea. First read this article with information about X-mas celebration in Korea. To get in the mood, look at this picture, cows with X-mas? We will look for funny and beautifull X-mas decoration. If you have nice pictures of Seoul or Korea in this dark month, feel free to send it. Also if you are planning to do things like this in the Seoul subway.(posted by Jitze, 01/12/05)