Zofona > Zofona Seoul > Weblog South Korea
---
Weblog South Korea

@Our previous Seoul, South Korea website
@The Korean Blog List
@Korean Food Recipies
@submit a comment
---------------------
After almost one Month some news: everything is going fine in the Netherlands. We already visited Belgrade and it looks very nice, we found a house and we are now waiting for the signed contract. Our cats did not behave very well so today we send them temporarily to a "cat hotel". We are still busy constructing the new site, just wait a little bit longer. If you want something to be published on this weblog or if you do have links for the Korea site, please use our contact form. (posted by Jitze, 10/07/06)
---------------------
They pack everything, I defended our computer but they are too strong. When a moving company takes over your house you will loose. So bye bye for now, next log entry will be from a stolen computer (preferably from those packers :) ) (posted by Jitze, 11/06/06) 9.35 am
---------------------
There were a couple of things I didn't do the past 4 years until yesterday evening. Two of my colleagues thought I should discover something new about Korean night live. First of all, thank you very much, I had a lot of fun.

So what did we do? First we ate something and they ordered traditional rice wine, I think it was makgulli. I never tried this wine before but it is quite interesting. It looks milky, the taste is even slightly sour but combined with the alcohol taste (14%) very interesting. Not something to drink the whole evening but if you live here just try it.

After the makgulli we went to a bar which I would describe as a 'business' bar. The owner, a friend of one of my colleagues, arranged a Korean eating and drinking session. It wasn't very busy but the owner explained that bars like this are doing most of their business during weekdays. You get a table and on the side of the table two girls will sit as conversation girls. They make sure that your glass is filled up the whole time, they prepare fruit and other food when you are drinking. As far as I know this is also a well known practice in Japan. Unfortunately they could only talk Korean and I was the only one at that table who could not talk Korean. But the bar owner happily translated everything and the girls nodded politely and smiled a lot. You are also more or less supposed to order your drinks per bottle, and normally it will be whiskey. So we also ordered a bottle of whiskey, a bottle of wine and beer. After some drinks I told the others that another thing I didn't try the past 4 years was eating fresh raw squid. Me and my big mouth! They started to laugh and one of them ran out of the bar (mind you, it was after midnight). Only ten minutes later we had live squid on our table. If you look at this movie (warning, some people might find it slightly disturbing) you get an idea of what was going on in front of me. Only one difference with the movie, our squid was cut up in more convenient short pieces but they were still fiercly fighting. The owner showed me how to eat it, and of course I could not change my mind anymore. I can tell you, they suck. Not the taste, they actually suck themselves to your teeth, tong. The taste is like oisters. I even ate more than one piece because I liked the combination of that oister taste with sesame oil. My advice if you ever want to try it: dip them in sesame oil, it reduces the sucking power of the tentacles and makes swallowing a lot easier.

After all the squid and whiskey fun there was one more thing to explore, a karaoke bar. In Korea they actually call them noraebang. You can find these noraebang places almost everywhere. The noraebang we visited had one extra service, girls who are paid to join customers and sing along. Upon request they can be a little bit 'touchy' towards male customers. If you don't want them to do so they will just focus their attention on filling up your glass, serving fruit and snacks (again) and sing and dance together with you. We settled for the filling up glasses concept (really :) ) but every now and then they asked us if we were sure about it. A very funny ending of a great evening, although I still don't know if my Elvis Presley and Beatles imitations were as good as those girls told me. I am sure they get paid to lie to me. (posted by Jitze, 11/06/06)
---------------------
Ik vlieg ook regelmatig met Asiana. Blijkbaar hebben ze erg goede piloten, zelfs met behulp van alleen zijraampjes landen, pfoei!!! (posted by Jitze, 10/06/06)
---------------------
Look at Yde and Vibeke in traditional Korean Hangbok clothes. They got this beautiful clothes from the father and mother of a Korean girl friend of them called Isabella. They just came to our house to give it. I was really surprised.Thank you very, very much, it will always remember us of our great time in South Korea and all the friendly people we met. (posted by Jitze, 10/06/06)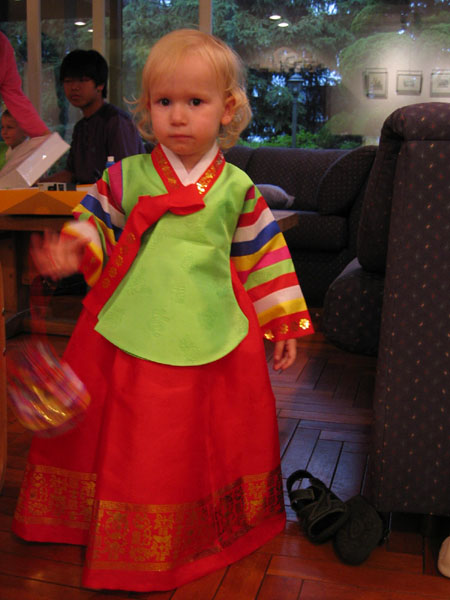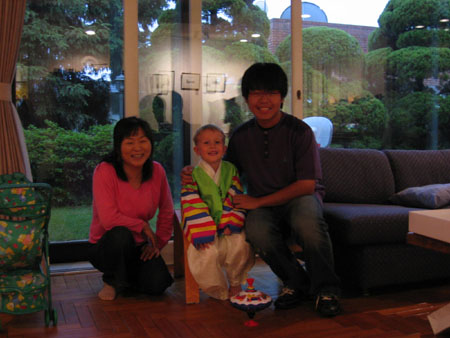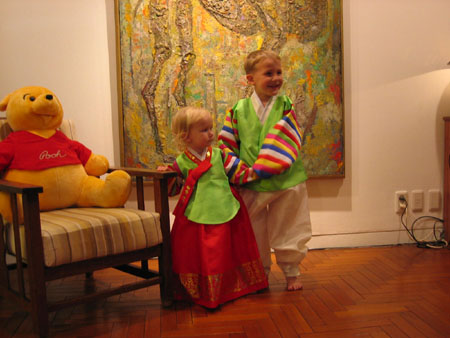 ---------------------
Aliens or not? Don't expect green men from mars if you read this article but it cought my attention. Quite strange that whatever these red dots are, they survive extreme high temperatures. And for a change, the guy who discovered them developed a theory but is still sceptical about his own theory which makes him at least more credible than the usual UFO spotter. (posted by Jitze, 10/06/06)
---------------------
I received a link, but only 4 years too late. You can learn Korean online, and even better, it's for free. For all the people arriving in Korea for the first time, maybe an idea to learn some basic Korean? (posted by Jitze, 09/06/06)
---------------------
As you can see the Serbia newsfeed is working now. We also created the layout for the new Belgrade, Serbia website. I think we put it online in about one month.

I received new North Korea pictures, they were made one week ago. You can find them here: part 1, part 2, part 3, part 4, part 5, part 6 (posted by Jitze, 07/06/06)
---------------------
Test newsfeed for the new website.



Needs some more testing I guess. (posted by Jitze, 05/06/06)
---------------------
We were going to Serbia and Montenegro according to what my boss told us. Even before we arrived it changed in Serbia. Montenegro declared independence yesterday evening. Good news for us because the header of the new website will be easier to make. Serbia and Montenegro as a country name would cover half the top banner. Belgrade, Serbia Newsflash will fit easily. (posted by Jitze, 04/06/06)
---------------------
I just came back from Kuala Lumpur. After Tokyo I had to go there to attend a conference before leaving this region. Yes, it is hard working on my business trips. ;) Of course you understand by now that my work is nothing but hardship but I still had time to make these pictures.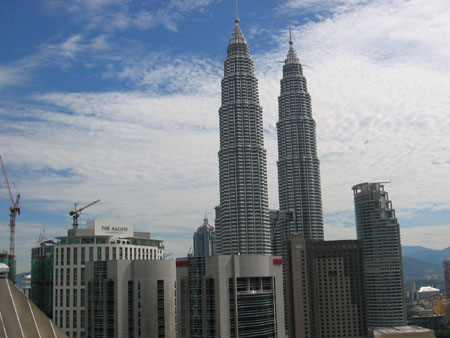 Petronas Twin Towers, impressive as usual.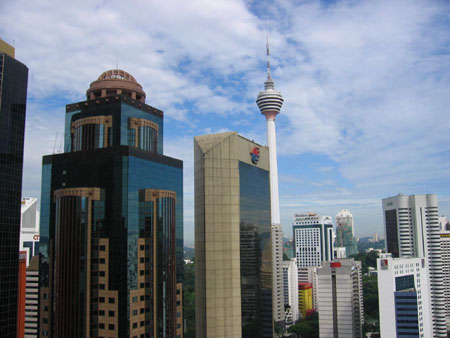 KL tower viewed from the roof of Crowne Plaza hotel Mutiara KL.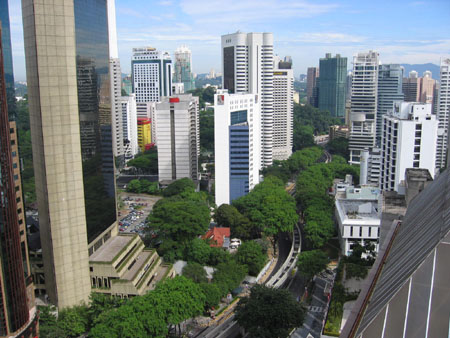 The Skyline with the Sky line (elevated train)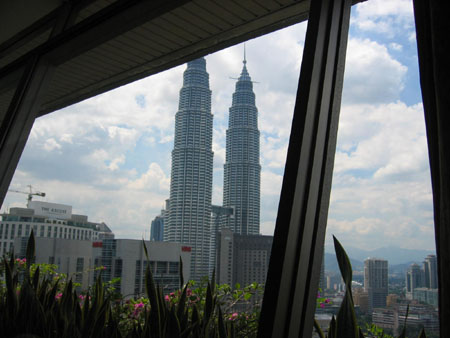 My view from our conference room.
Diner in the KL tower, first impression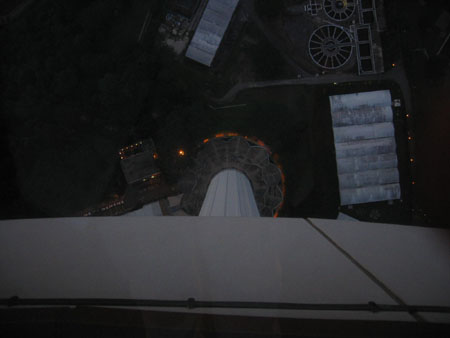 And this is what you see if you are not afraid to lean against the (safety?) glass window.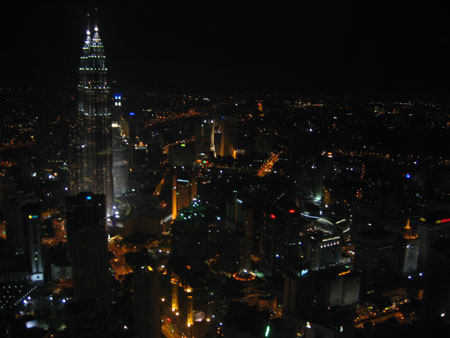 The Petronas towers while eating in the KL tower.

Only two more weeks before leaving Seoul. And this evening we had the chance to once more enjoy the excellent health care in Korea. Yde probably scratched his ear because it was itching. He was crying and I saw blood so we went to the hospital at 10.00 pm this evening (at my first aid training they tought me to always check with a doctor if you see blood in an ear).

Everything was ok and they cleaned his ears. The itching was probably the result of falling on that ear this afternoon while playing in the swimming pool. I hope they have the same fast evening service in Belgrade too, with small children you never now what to expect on a quiet Saturday evening. (posted by Jitze, 04/06/06)
---------------------
Last year we went to Japan for the first time. At that time our impression of Osaka and Kyoto was very positive. This week I went to Japan for the second time, now on a business trip to Tokyo.

I made pictures of Tokyo to show you my first impression. I tried to compare Tokyo to Seoul. The only way I can explain it in short; if the Koreans are the Italians of North East Asia, the Japanese are for sure the Germans. Cleaner city, more balanced architecture (even though it's a concrete jungle), more polite and above all, everything is working and always on schedule. Don't get me wrong on this, both cultures have positive and negative aspects. I think the strange thing is that Japanese and Korean people are very different and very much alike at the same time (although they will never admit it). (posted by Jitze, 25/05/06)
---------------------
Today I had lunch at Sanchon restaurant and I added some extra information on our restaurant reviews. (posted by Christina, 23/05/06)
---------------------
I repaired our zofona headquarters page, check it if you want to see what kind of music we play. We also broadcast live on internet if we play something when sitting behind our computer. Try to listen, read the instructions here. I discovered that besides winamp some other media players also work. And we also play on request, use msn, skype or mail to ask for even better music. :) (even classical) :) (posted by Jitze, 20/05/06)