Zofona > Zofona Seoul > Weblog South Korea > Archive weblog 2005 > weblog Korea Aug 05
---
weblog Korea Aug 05

Today I wrote the Dutch version of our holiday story. Klik hier om het te lezen.
(posted by Christina, 29/08/05)
---------------------
Our friend Coen saw an advertisment from 'Seoul Race Park' in the subway. Because the advertisment looked nice he suggested to 'watch' it this Sunday. He did not tell that watching means betting on race horses. We consider ourselves to be experts in many fields including race horses. Just to be on the safe side we quickly invented a perfect betting system to make sure that we would become rich. By now we know that we are:
1) no horse racing experts
2) no perfect betting system inventors.
Anyhow, it was great fun. Yde also enjoyed watching the race horses. Look at the movie and feel the tension. In the last part you will hear a Korean guy screaming something like AI AI AI. Probably he was just as lucky as we were!! (posted by Jitze, 28/08/05)

Horserace on a Sunday afternoon, click to see the movie.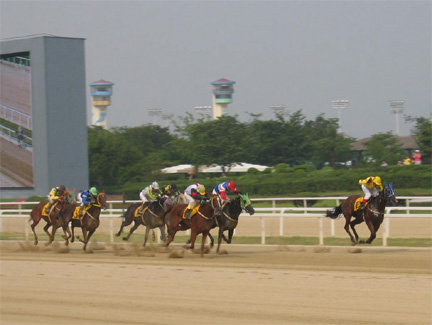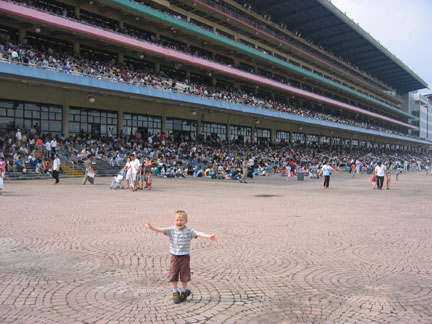 ---------------------
Christina wrote a new story about our holiday.(posted by Jitze, 28/08/05)
---------------------
Copycat or not? Yesterday I saw a shop in Seoul called Koolhaas. They sell cloths and they even have a website. Check brand concept under the brand myth tab. The English text is a mess but somewhere in the text they mention Rem Koolhaas, the famous Dutch architect. Is this a secret project from Rem Koolhaas in Seoul, or is it just one of the many copycat examples you can find here? (posted by Jitze, 28/08/05)
---------------------
Hi, I am back again. After a nice holiday in The Netherlands I have acces to a computer again. Last Friday afternoon I went already with Yde to his school so he could meet his teachers Mrs. Lucia and Mr. Bernie and some of his fellow students. After 20 minutes I left but Yde wanted to stay untill school was finished. At 3.30 pm I picked him up and on the way home he kept on telling me that he really liked it and he wanted to go again tomorrow. Bad news for him because the school is closed during the weekends, but on Monday he will go again and he is looking forward to it. It will be less noisy in our house but now I have more time to spend with Vibeke and that is what I am looking forward to. So, everyone is happy and what do I want more.
(posted by Christina,28/08/05)
---------------------
Finally! Christina, Yde and Vibeke arrived today in Seoul. Thanks to chicken-pox and airline regulations with a delay of more than two weeks. They had a good flight, Yde and Vibeke slept a couple of hours so Christina could also take a nap. Starting next week our big boy will go to school for the first time. (posted by Jitze, 25/08/05)
---------------------
I wrote about google earth on August 11. At that time the resolution of the satellite images of Seoul were not very good. To my surprise it changed. Now I can clearly recognize our house and the Kyobo building where I work. Look at these pictures (and they are full screen if you install google earth). It's just fun to look at Seoul from space! (posted by Jitze, 23/08/05)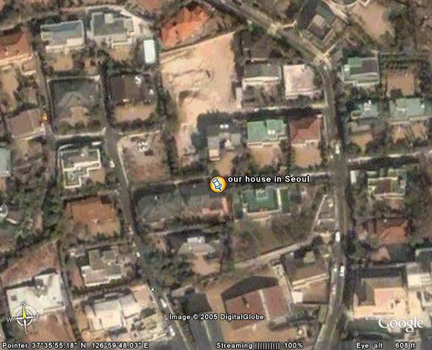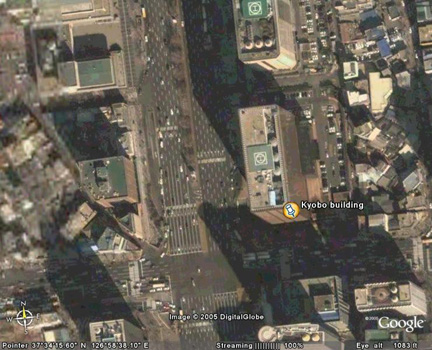 ---------------------
If you visit Seoul as a tourist you should try to visit the Seoul Tower. On a clear day you can even see North Korea and it gives a good impression about the size of the city. But be aware, the tower is closed for renovation at this moment. Coen discovered it after arriving there today. (posted by Jitze, 23/08/05)
---------------------
One of the advantages of Seoul is that it has a '24 hour economy'. Shops and supermarkets like Tesco are open 24 hours per day. Very convenient if you have a busy schedule. But this great concept is not limited to shops and supermarkets.

Last Saturday I discovered that our cat had two nasty wounds behind his head. At 9.00 p.m. I checked the pet shop of our regular veterinarian and it was open (I would never consider checking a thing like this in the Netherlands).

Our friendly Vet was there. He just started cleaning everything but it was no problem to bring our cat. The wounds were infected and he even excused himself for not performing surgery immediately, instead he did it on Sunday (also open untill 9.00 p.m.). There are not many countries where this attitude is totally normal, but wouldn't it be great.(posted by Jitze, 22/08/05)
---------------------
A good thing about going to the movies in Seoul is that English movies have Korean subtitles. No dubbing by one person like for example in Poland. And another good thing, they are rather fast with releasing new movies, faster than Europe. The price of a ticket varies between 8.000 and 11.000 won. In the Netherlands we have something annoying, the break. In the middle of the movie you are almost forced to buy drinks and food. Here they show the whole movie without any break. The only time this could be a problem is when you watch something like Lord of the Rings (toilet!!!). Anyhow, here you find an old article about going to the movie theater in Korea, and here an example of a website of a Korean movie Theater. Just try it and be prepared for freezing temperatures because of the airconditioning. (posted by Jitze, 19/08/05)
---------------------
Coen has to write his own travel story, therefore I will not write every day about what he did. But one exception because of this nice picture. After a Korean diner we went to Bugak Palgakjeong which is close to our house. It is a great viewing point, you can see the skyscrapers of central Seoul very good on a clear day. This is the result of experimenting with shutter time, iso and these signs: NO PICTURES. (posted by Jitze, 16/08/05)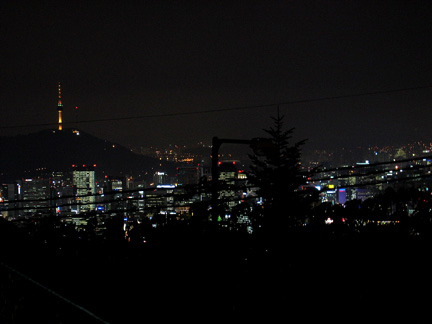 ---------------------
A friend of us, Coen, arrived yesterday. I picked him up from the airport and we battled his jet-lag the whole day. To be honest, he did not had jet-lag problems because we walked around the whole afternoon and evening. We went to Namdaemun Market for a first impression of Seoul. Before he started exploring the mysteries of the land of the Morning Calm he had to do something even more important..... Check email, internet junkie!!! (posted by Jitze, 16/08/05)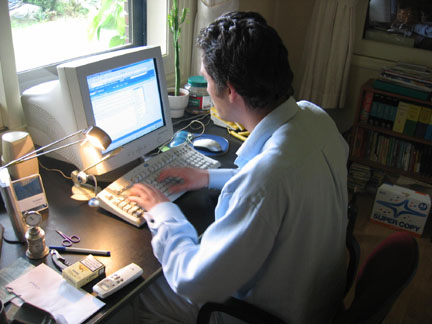 ---------------------
We added a section to our site called Korean Gift Shopping. The Korean Musical Instruments section is now 'online'. More details about dimensions and prices of these instruments will be published next week. Better pictures will be added soon. Do not expect these instruments to be cheap, everything is hand made, playable and of high quality. (posted by Jitze, 14/08/05)
---------------------
De site van Olle en Kirsten groeit gestaag verder. Ook in het archief van voorgaande maanden staan veel leuke dingen. Heb jij ook een weblog of verhalen over Korea? Stuur de link of de verhalen naar ons via contact en wij plaatsen ze.

Yes, that's Dutch. What am I asking? Do you have a weblog or stories about Korea? Send us the link or the stories through contact and we will publish it. (posted by Jitze, 13/08/05)
---------------------
Today I heard about google earth. You can download free software on your computer and the fun starts. Satellite images of the whole world packed in a software program which navigates very easy. I won't explain all the features but it is really worth installing. Especially the way the globe turns when you enter a new city (or just a small village) looks great. Try Seoul, Incheon Airport or even Pyongyang. Everything is available. (posted by Jitze, 11/08/05)
---------------------
In the news: Mr. Lee, a 28-year-old Korean man died last Monday after playing computer games for 50 hours. Of course a stupid way to die, and we never know if he did it to reach some kind of strange record. More bad news for late Mr. Lee, late Mr. Kim managed to play 86 hours in 2002 before his own hard disk crashed. This 2003 Forbes article is also interesting if you want to read more about the internet addiction of Korean people. (posted by Jitze, 10/08/05)
---------------------
Did you read it? Seoul National University professor Hwang managed to clone an Afghan dog. I will not debate about the ethical part but just point out the logical part. Why are people surprised about the fact that this Korean professor managed to clone a dog. If there is one country where they love dogs so much to go through all the effort to clone them it can only be Korea. If I like some food I prepared I also try to follow the same recipy a second time. (posted by Jitze, 10/08/05)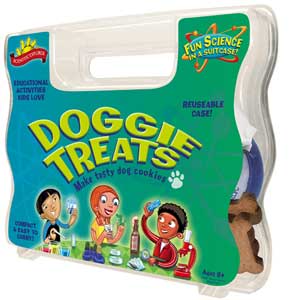 ---------------------
Wikipedia has a lot of information. If you start reading you can go from one topic to another. Tons of info, according to wikipedia Seoul (the Capital Metropolitan Area) is the 4th largest populated area in the world. If you ever had this strange feeling that it is a little bit crowded over here you just might be right. (posted by Jitze, 09/08/05)
---------------------
Did you ever hear of a 'jetlag watch'? I wanted to find some information about jetlag and my first try: www.jetlag.com shows a watch which gradually changes time during your flight. Einstein would have never invented his relativity theory with a watch like this. (posted by Jitze, 07/08/05)
---------------------
30.8 degrees celcius, 68% humidity, I am back in Seoul. A big difference with the weather in the Netherlands. The flight was fast, less than 10 hours. Christina, Yde and Vibeke will probably return next Sunday if Vibeke will not get the chicken-pox. The coming week I will update the weblog and some other parts of our website. (posted by Jitze, 07/08/05)