Zofona > Zofona Seoul > Weblog South Korea > Archive weblog 2005 > weblog Korea Oct 05
---
weblog Korea Oct 05

The film Seoul train is a documentary about the terrible situation of North Korean refugees in China. It shows how China deals with these refugees and the life or death decision these refugees have to make because of their desperate situation. Going back to North Korea is no option for these people, they even prefer suicide! A must see documentary! (posted by Jitze,29/10/05)
---------------------
Today we celebrated Halloween at Yde's school. All the children and their teachers were dressed up and the head of school had changed into a beautiful nice witch. At 11a.m. they held a parade in school due to the bad weather, otherwise they would have held the parade in Namsan Park. Yde went to school as a pirate with a painted moustache and beard on his face. After he came from school we went to Mrs. Boogak (the owner of a small shop in our neighbourhood) for trick and treat and he received a chocolate egg. Then we went to our Dutch neighbour, Yde sang a Halloween song and got a small bag with cookies and chocolate. This was his first Halloween and when he went to bed he was still talking about all the things that happened today.
(posted by Christina,28/10/05)
---------------------
When I was reading the Internet version of the Chosun Ilbo my eye catched this article about Korean toilets. It is true, most of the toilets are in a good shape and especially the button you can press when you make noises that are not mentioned for other peoples ears are an invention (when they work). But there is also another side of having these nice toilets especially when you are a woman and you really have to go. The female employees in the business buildings/supermarkets/hotels are using the toilets for many other reasons then they were made for. What can be nicer than having a long mobile telephone conversation with your friends sitting in your own "private" room when your boss thinks that you only have to pee? Convenient restrooms are OK, but maybe they can create a cosy corner with sofa's and battery rechargers in it for people who only have to make telephone calls.
(posted by Christina, 26/20/05)
---------------------
I forgot to write about my visit to the Samsung Children's Museum last week. Yde's class had a fieldtrip to this museum and I had the opportunity to come along as a volunteer. The museum offers children to learn through experience. There was a construction site where they could build walls with foam bricks and transport them with a crane. On another floor they could play with water in all kinds of ways or sending letters to the other side of the room with the use of air. It was one big adventure and I certainly was not the only one who enjoyed this fieldtrip.
(posted by Christina, 26/10/05)
---------------------
Last week I received a lot of fresh ginseng during the trip I made. Today I gave it all away to my landlady Mrs. Lee, since I have no time to cook or steam it for hours and hours. Mrs. Lee is part of the generation that still believes in the good effects of ginseng and she is used to make ginseng brews for her husband (it is good for his stamina, she said). So, she is now very happy with my ginseng and in return she will bring me some of the ginseng brew next week. I'm looking forward to it and I'm questioning myself if something very healthy can taste nice as well. I will let you know.
(posted by Christina, 25/10/05)
---------------------
Today I added some more information about Ginseng and some short recipies for Ginseng-Honey, Ginseng Milk and a drink with recycled Ginseng. Did you know that Koreans say that Ginseng Milk can prevent a hang-over? If some-one knows if this is true, let me know!
(posted by Christina, 24/10/05)
---------------------
Yesterday evening I was invited to a diner organized by Mayor Seo Chan-kyo of Seongbuk-gu, the district we live in. It was held in the gardens of Samcheonggak, nowadays a cultural place in Seongbuk-dong. After a nice Korean dinner we could enjoy a fantasy dance performance "Spirit of the Wind". The performance was inside the building so we all could warm up a bit since it was quite cold outside. Before going home a picture was taken of all the guests and the performers in their costumes. It was a very nice evening, even without Jitze, and it certainly will add something to my memorable stay in Seongbuk.
(posted by Christina, 23/10/05)
---------------------
Yesterday I went on a trip to a Ginseng and Bird Watching Fair in Seosan. Unfortunately it rained almost the whole day but with a raincoat and an umbrella I managed to keep myself dry. It was a nice trip and I have put some new information about Korean Ginseng on our site. Also the Birds have now their own place on this site. Interested? Take a look!
(posted by Christina, 22/10/05)
---------------------
Hilarious, in my SsangYong Kyron review, which I wrote a couple of months ago, I also mentioned I dislike the design of the SsangYong Rodius.

I now guess I have British taste. In the UK this car was elected the ugliest vehicle on Britain's roads. Read this article (slow loading). I like British understatement: It has been described by car reviewers as a 'surprised hippopotamus', 'so ugly it could frighten small children' and so bulky 'it makes Bernard Manning look like a matinee idol'. (posted by Jitze, 20/10/05)
---------------------
For visitors, but also for people living in Seoul. This (street) map of Seoul provides lots of good information. Just select an area at the right side, turn of pop-up blockers and get information on buildings, shopping area's and other interesting things. There are also plenty of video clips available. Subway stations are drawn in the map and with the orange arrows in the map you jump from one area to another. Search by subway line is also nice, just try it! (posted by Jitze, 19/10/05)
---------------------
I like cars if they are nice. I do not like them when they are ugly. In the past I wrote about the SsangYong Kyron. I just added another start of a 'review' to our site. The new SsangYong Actyon. Action but different. I am trying to get more pictures to add and then I will really review this new piece of Korean street design. (posted by Jitze, 18/10/05)
---------------------
One of the Osaka trip pictures. (posted by Jitze, 18/10/05)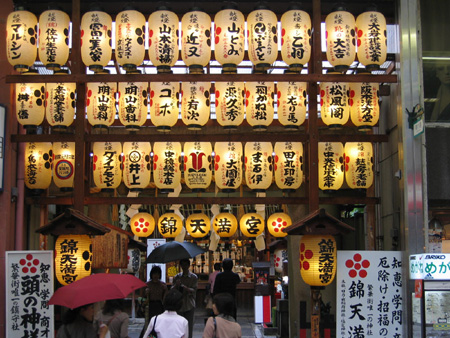 Lanterns in front of a Buddhist temple.
---------------------
We are back from Osaka, Japan. After coming home I immediately started to write our story to compensate for a whole weekend without a keyboard. Click here to read it (posted by Jitze, 17/10/05)
--------------------
Hamburgers! The corner stone of any nutritious breakfast. So check out this recipy for a hamburger with special sauce. (posted by Jitze, 13/10/05)
---------------------
Friday we will go to Japan. We will fly to Osaka. Some friends are going to marry and we are invited to join the ceremony. Because we have never been in Japan we use this opportunity to visit Kyoto as well. Next week we will publish our pictures. Our hotel, the New Otani Osaka, is located close to the Osaka castle (picture). (posted by Jitze, 12/10/05)
---------------------
You can buy masks in every souvenir shop in Korea. They are cheap imitations of the real masks used in traditional theatre performances. If you really like masks and are driving around in the country. Go to Andong to visit the Korean Mask Museum.
Location of the Mask Museum:
287, Hahoe-ri, Pungchun-myun Andong city.
Tel: 0571-8532288 fax: 0571-8530114
(posted by Jitze, 12/10/05)
---------------------
We added Mokpo City to our website. Mokpo is a nice city which we like because it has a nice harbour and it's silent compared to Seoul. (posted by Jitze, 12/10/05)
---------------------
This is the North Korean way of promoting tourism! Read this article and make up your mind. Is it really worth to pay 200 USD to see Kaesong, probably under strict North Korean regulations? Maybe when I get an official stamp in my passport that I visited North Korea.......uhmm...
(posted by Christina, 11/10/05)
---------------------
Radio zofona will broadcast the whole day and requests are more than welcome. More info: radio zofona. I am wondering if we will get more than 2 listeners today. :) Look at Zofona Head Quarters to see what's playing right now.(posted by Jitze, 08/10/05)
---------------------
Hahaha, Mens Rules!!. Yes, enjoy this powerpoint presentation, if you do not recognize a bit, you are just lying!. For the men: do not blame me if you have to sleep on the couch tonight! (virus checked file, even more safe than durex) (posted by Jitze, 07/10/05)
---------------------
I just read that Korean students will get an extra free Saturday each month. On a trial base some schools are already closed two Saturdays a month. I only hope that this free time will be used for playing outside or doing sports or something else what is fun and not that it is an extra day for studying in an institute to become more intelligent or what so ever. Yesterday when we came home from a diner with friends (11.30pm)a schoolbus drove into our street to drop off a child (approx. 8 years old) and we were a little shocked by that. Children that age are supposed to be in bed by that time and not in a schoolbus. But I know I am Dutch and I will not get used to the Korean way of raising children. (posted by Christina, 06/10/05)
---------------------
Bad news for tourists travelling to North Korea. The only bar for foreigners will probably close in January. So bring your own booze and snacks with you if you plan a wintersport holiday over there. The apres-ski might otherwise be somewhat dissapointing. (posted by Jitze, 05/10/05)
---------------------
Well, this article must be interesting for bachelors. What is it about Korean women that Western men like? Personally I really don't have a clue why they do so. (posted by Jitze, 04/10/05)
---------------------
The opening of the river / sewer (see posting 28/09) today was not what I expected from it. Because of VIP's (maybe the president?) we were blocked from going to the ceremony stage. What a typical public opening!! In Korea the VIP and CEO culture is quite annoying. We also could not walk next to the river / sewer. Therefore this was not a real opening at all.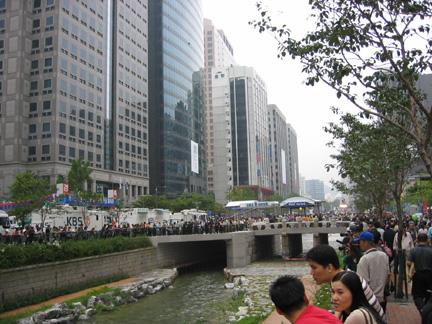 Another funny thing, protesting in Korea. I have seen a lot of demonstrations over the last 3 years, always with an incredible amount of riot police surrounding protestors. This is a heritage from the Eighties with violent student and labour union protests. Even nowadaysl every protest is regarded a high risk event. The funniest example I ever saw: 5 protestors in wheelchairs!! being surrounded by 30 fully armed riot policemen. I did not had my camera with me that time. To show you that I do not exagerate, look at this picture. I borrowed a small ladder from a police man who was taping this event. Count the protestors, count the riot police (and out of sight there were another 50 men standing by). (posted by Jitze, 01/10/05)