Zofona > Zofona Seoul > Weblog South Korea > Archive weblog 2005 > weblog Korea June 05
---
weblog Korea June 05

Aarggh, we still do not have guestloggers!! and we leave tommorow! So if you have a nice article or link for the July log please send it (submit a comment). (posted by Jitze, 30/06/05)
---------------------
Yesterday Jitze, Mrs. Koets and I accompanied 4 Dutch Veterans and two of their wives on a trip to Pusan where we visited the Tanggok UN War Cemetry. The four Veterans placed a wreath near the graves of their comrads who died during the Korean War. A lot of memories came alive while watching some pictures in a small museum near the cemetery. We also visited the Memorial Service Hall and a Korean UN officer explained that it had been difficult to create a place where all religions feel welcome. One of the Veterans replied that in war time everyone fought side by side and that there was no difference between Muslims, Protestants and Catholics. All the UN soldiers fought together for the freedom of the Korean people. Looking back it was a very special day, for the Veterans but also for us. I learned a lot about the Dutch participation in the Korean War, the sacrifices made and the Korean people still being grateful towards the Veterans.
(posted by Christina, 29/06/05)
---------------------
Maybe you know it, maybe you don't but in Korea people eat dogs. Search google and find information about this habit. I have to warn you that some pictures are quite disturbing for dog lovers. Yesterday I went to a market where some shops sell dogs and dogmeat. Because it reminded me that 'dog eating season' starts around this time I am posting an opinion from a Korean person living in the Netherlands about the habit of eating dogs. Here you find the English version, here the Dutch version. (posted by Jitze, 27/06/05)
---------------------
Christina wrote something on 21/06 about the start of the monsoon season. This afternoon it started to rain. At this moment (11.00 p.m.) it is 24.1 degrees celsius, 88% humidity and pouring. It is the humidity that makes it unpleasant. We planned our holiday perfect, Friday we will go to the Netherlands for one month.
P.S. guestloggers wanted for July!! (posted by Jitze, 26/06/05)
---------------------
OK in Korea, Dutch people with a weblog about living in Gumi. For sure there are not as many expats around there as in Seoul but they enjoy living in the outback. The weblog is written in Dutch but if everyone who is reading this visits their site maybe I can convince them to start with an English log. ;) (posted by Jitze, 24/06/05)
---------------------
And for those kicked out of university: (posted by Jitze, 24/06/05)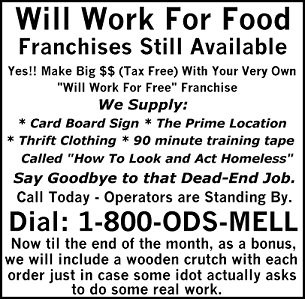 ---------------------
I am very happy that I grew up and went to school in The Netherlands. The pressure Korean students experience from their parents is, in my opinion, far beyond reality. The Korean parents who bring up their children with other values than only studying to get good school grades are in the minority, but I know they exist. The article I refer to, shows again that it is still a shame in Korea to have a child which is probably not as bright and smart as parents want it to be. The father of this family decided to commit suicide with the whole family in front of his son's school. The son who apparently put the blame on his family was the only survivor. Now he is dead, committed suicide.

If Koreans are that intelligent then they should know that not every person is gifted with a high I.Q.. Actually they should be happy that not everyone wants to become a professor or a doctor. Who else would do the "stupid" work like maintaining their garden and their house, showing them the right place to park their car so they can shop at Hyundai and Lotte, being their driver or taking away their garbage. If there were no people with a lower I.Q. to do all kinds of "stupid" and "dirty" work, Korean's would live on a refuse dump like people in poor countries.
(posted by Christina, 24/06/05)
----------------------
The Deadly World of Warcraft.
Never thought that playing the popular online game "World of Warcraft" can cause death? Well it can, if you are 4 months old and your parents are addicted to the game. Read this article and be so wise not to do the same as those people. I am wondering if these parents are going to sue "Blizzard" for being addicted to one of their games and the death of their baby.
(posted by Christina, 24/06/05)
---------------------
This looks like a normal toilet. But look better, they added a ... uhhm ... let us call it a 'baby parking device'. A colleague took this picture at the women's toilet in an E-Mart supermarket. She told me that this toilet apparently won a (prestigious?) price for best toilet in Korea in 2002 or 2003. Christina thinks it's not a bad idea, even the floor of a women's toilet sometimes gets dirty, hahaha. (posted by Jitze, 23/06/05)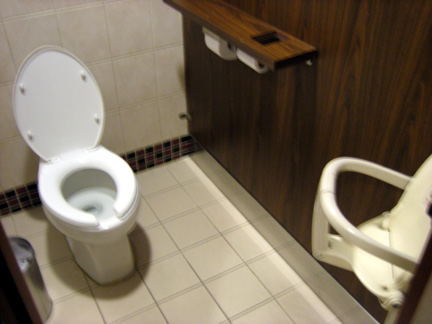 ---------------------

Above I added 'comments'. If you send a comment it might be posted as a normal weblog message after reviewing. I just like good old fashioned censorship. (posted by Jitze, 23/06/05)
---------------------
This afternoon I visited together with Vibeke, Yde and Lilly a shelter for children named Bethlehem Agabang. It is located near our house and founded by a Philippine nun, Sister Michaella Santiago. At this moment there are 21 children and several Korean and Philppine volunteers to take care of them. Most of the children stay there the whole week, including nights. The volunteers created a warm and loving environment in which they give the children all the care they need. I am very happy that I was given the opportunity to take a look at Bethlehem Agabang shelter and have a talk with some of the volunteers.
(posted by Christina, 23/06/05))
---------------------
This morning I looked at the weather forecast on our website and I couldn't agree with the fact that it said "mist". If I can't see Seoul Tower from my house then we have "smog" and certainly no mist. (posted by Christina, 22/06/05))
---------------------
Today I added some information about Korean Cooking Classes. So, if you don't have a nice Korean landlady, like we have, who teaches you how to prepare Korean dishes, maybe a course at a cooking school will be something for you. It certainly is a nice way to experience Korean Culture because most of the classes are not only about making food. (posted by Christina, 22/06/05))
---------------------
NK News, a Database of North Korean Propaganda. According to their mission statement they:
1) Provide academics, journalists, bloggers, and others with a searchable archive of North Korean propaganda released through the KCNA, along with other features.
2) Allow the world an overarching view of the nature of the Kim Jong Il regime by letting the propaganda speak for itself.
3) Offer some satirical comic relief from an otherwise tragic and dangerous situation.
LOL, try this great random insult generator, and very useful, a Gregorian - Juche Era Conversion Tool. Wow, I almost forgot the FAQ section, hilarious!! (posted by Jitze, 21/06/05))
---------------------
Tomorrow the Korean monsoon season will start. Already for weeks AFN radio warns all militairy personell to be very careful for mud slides etc. Well the last three years the monsoon rains were easy to defy with an umbrella and rubber boots or slippers. If I think of a monsoon I see people in India and Bangladesh wading through deep water with their belongings on their head. I have never seen this in Korea so I am not afraid for the coming Korean monsoon. (posted by Christina, 21/06/05))
---------------------
The first day of this year's International Whaling Commission (IWC) meeting started yesterday in Ulsan, South Korea. Interested? This is the agenda. Activist groups (including Greenpeace) gathered there already some weeks ago to protest against whaling. So far the confrontations between protesters, fisherman and local restaurant owners were resolved peacefully. As long as Greenpeace doesn't discover the restaurants where you can eat whale meat (no joke) it will stay this way I guess. (posted by Jitze, 21/06/05)
---------------------
Yesterday's cake cutting starring Vibeke, the movie! We held a children's party this afternoon. Yde also received a present for being a very nice and helping big brother for Vibeke the whole first year. Do you remember this movie? We published it exactly one year ago, amazing how fast the time goes by.
(posted by Jitze, 20/06/05)
---------------------
Today we celebrated Vibeke's first birthday (although tommorow she will be ONE YEAR!! Christina wrote about it in English and Nederlands (Dutch) (pictures included, maybe tommorow the movie, Vibeke cutting a cake). (posted by Jitze, 19/06/05)
---------------------
There is something about Koreans which is simply uncivilized, no matter what their excuse or reason is for this behaviour. I saw an accident this afternoon. A guy on a scooter crashed straight into a car which made an U-turn where it is not allowed (as usual the driver did not look in his mirrors). The scooter guy was launched and made a nasty crash on the road. He was moving but clearly could not stand on his leg, he tried but had to sit down (broken?). For me it was difficult to get out of my car to help the guy because I was far away in the middle of a lane. But for minutes nobody came to check upon that unfortunate guy. Instead I saw the car driver coming out of his car and making gestures only to himself. Both hands went into the sky like 'things like this always happen to me, poor me, what a bad luck for me!!!. Mind you, there were cars standing still in a traffic jam just two meters away from the victim, but nobody got out of their car!! People on the sidewalk looked, took pictures with their mobile phones!! and walked on. Bus drivers were passing the victim who was lying on a bus lane, they sounded their horns angrily for blocking the bus lane!! At that time I was 200 meters away and still stuck in traffic. By that time I decided to leave my car anyhow to help him (I have first aid training), but then another guy came from the sidewalk to help. Therefore I continued slowly in that traffic jam but I could just see the car driver quickly looking at the victim before dragging the scooter away from the road. Just an incident? I don't think so, a couple of weeks earlier I was walking with a colleague who also has first aid training. A scooter crashed into a bus 20 meters from where we were standing. We immediately went there to check if we needed to do something. Nobody else did anything, people here probably like to look from a safe distance if you are in trouble before walking away. Backward attitude, grrr :((
(posted by Jitze, 18/06/05)
---------------------
I have something to do this weekend. June 19th it is Father's Day. And for all the Father's out there, here is a commercial announcement. :)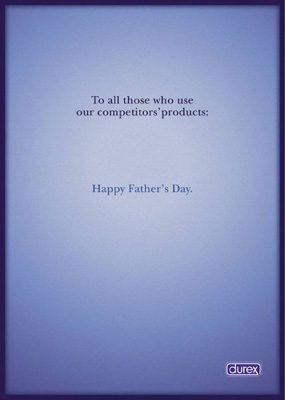 (posted by Jitze, 17/06/05)
---------------------
Nothing to do this weekend? Seoul Forest will open tomorrow, June 18, after two years and 5 months of constructing. All kinds of activities will be held to attract visitors, even a hot air baloon ride. To go there take the subway to Ttukseom station (line#2) exit 8.
(posted by Christina, 17/06/05)
---------------------
Welcome to fantastical mud world! Boryeong mud festival. This should make you wonder enough to visit the site. Lol, check out the great incentives for foreign tourists:
- Mud cosmetics (souvenirs) offered free! (Don't ask me)
- Free use of lockers. (That should attract at least Dutch people)
- Interpretation service provided. (For throwing mud?)
- Free shuttle bus operation to main tourist sites in Boryeong. (Visit all the mud locations?)
Anyhow, I know people who visited this festival, they told me it was fun so check it (July 16 - July 22) and send us your story with pictures.
(posted by Jitze, 15/06/05)
---------------------
The cultural heritage administration of Korea has three responsibilities according to their website:

1) Preserve and maintain cultural heritage in original condition.
2) Cultivate tourism resources through promoting value of cultural properties.
3) Enlarge people's enjoyment about cultural heritage and make public Korean traditional culture in the world.

Judging by their website they already did a lot of work. Choose exploring cultural properties on the left side. Select a region and you get an impressive list of cultural properties. If you select a topic with this

image you even get a virtual reality tour. Nice site! (posted by Jitze, 14/06/05)
---------------------
Testing another newsfeed on South Korea.

(posted by Jitze, 13/06/05)
---------------------
We are faster than the IAA exhibition in Frankfurt! What are we talking about?
(The International Motor Show (IAA) is the world's most comprehensive show for the whole industry, which makes it the international platform for all those who develop, manufacture or use passenger cars).
This afternoon I took pictures of the Ssangyong Kyron. Again the Ssangyong design team managed to make a car which just looks like a collection of other cars. Bweuh! (posted by Jitze, 12/06/05)
---------------------
It looks like we receive more spam every week. Our spam filter is working overtime to block all the special 'personal' mortgage offers, tons of viagra and other medicines. The so called 'Nigerian' scam is driving our filter totally crazy. I am always recommended as a trustworthy friend by some other trustworthy friend of a friend of a friend to receive zillions of dollars. It just sucks to be a friend of a friend of a friend.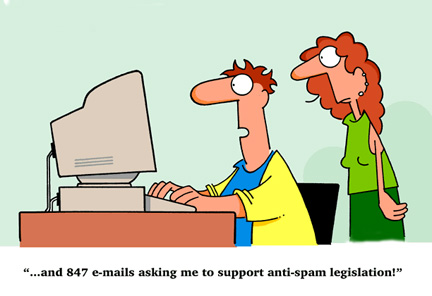 (posted by Jitze, 11/06/05)
---------------------
I discovered the site Korea land Portal while searching for information on Busan. This is really a nice site for everyone who wants to travel in Korea. Just select an area and an attraction, they put VR (virtual reality) images on their site. So before going to a temple or park you can check on this site if it is worth the trip. (posted by Jitze, 11/06/05)
---------------------
Two days, that is what it takes to send a registred package by EMS door to door from Korea to the Netherlands. I send one of our zofona T-Shirts to The Netherlands. We posted it at June 08, 11 a.m. and it arrived in Zwolle at June 10, 16.00 p.m. Not bad for 17.000 won (15 usd). Korea Post has more info on their website. (posted by Jitze, 11/06/05)
---------------------
A few days ago, I wrote about the insect killers one of my neighbours installed, now my other neighbours also bought this kind of equipment. Lucky us... All flying insects in a radius of 300 metres are attracted by these killer lights so our garden is now insect-free! Many thanks to my Korean neighbours who are obediently following the newest trend among rich house owners: insect killers.
(posted by Christina, 10/06/05)
---------------------
I was just reading some dutch news on www.nu.nl when the second article catched my eye. I know we have a few nudist beaches and camping sites in The Netherlands but I never heard of the World Naked Bike Ride. So if you have time tomorrow and you like cycling...... tours will be held in The Netherlands, Spain, Great-Britain and the US.
(posted by Christina, 10/06/05)
---------------------
Kim Jong Il wins over Saddam Hussein.
Is it true that living behind bars makes you less evil?
(posted by Christina, 09/06/05)
---------------------
What you can't see is not there???
I read several stories today about the Nuclear Power "North Korea" and they are building more nukes, should I be afraid now? Uhm.... Prime Minister Lee Hae-chan said the administration is watching over, and managing all things in a democratic way. In other words DON'T WORRY. No other nation (including the US, China and Japan) has declared that North Korea posesses nuclear weapons, so there is no reason to see this situation as a crisis. He claims the Inter Korean ties are better than ever. Thanks to the Prime Minister I can go to bed and sleep well.
(posted by Christina, 09/06/05)
---------------------
Jitze and I were sitting in our living room when we heard loud ticking/clicking sounds coming from outside. After a while it became more and more annoying so we went out to see what was making that noise. We discovered a few insect killers hanging from the roof of our neighbours house. Everytime an insect, attracted by black light, flies against the wire-netting it is killed bij electricity which makes that ticking sound. We can imagine that our neighbours do not like insects but we do not understand why they hang these lights outside their house. They never sit outside on their terrace and besides that every house in Seoul has screens in front of all windows to keep flying insects out. Maybe they like the smell of barbequed insect.........
(posted by Christina 07/06/05)
---------------------
We added some new North Korea pictures. (posted by Jitze, 07/06/05)
---------------------
Today I visited Dr. Choi (dentist) for 1 hour and 40 minutes. A while ago I broke one of my teeth and it needed to be repaired. Today Dr. Choi made some preparations for a crown and actualy it was not a bad experience. The best thing is that you get a pair of sunglasses to protect your eyes from the bright light. At a certain moment I even thought of taking a nap, but then I had to participate actively in the repairing proces by opening en closing my mouth. When I was waiting for my temporary crown the assistant gave me an english copy of Time magazine so I could read a bit. About 30 minutes later Dr. Choi came back with my temporary crown and after some polishing my T-crown fitted well. When I came home Yde wanted to look in my mouth to see if I also had a nice golden tooth like Jitze has. He was even a little bit disappointed when I showed my T-crown. But I am very satisfied with Dr.Choi's work and therefore I will write his number on this weblog because there is no working website available. So if you are living in Seoul and you are looking for a good dentist call:
Dr. Choi & Associates 02-796-2224
Hannam-dong Volvo building 2F (above Hannam supermarket)
(posted by Christina, 07/06/05)
---------------------
It wasn't me!
Man frolics naked in City Hall fountain.
A man ran naked in the fountain in front of Seoul City Hall as children were playing nearby, Yonhap news agency reported.

The man, in his 30s, splashed in the water while muttering to himself for about 10 minutes, causing parents to flee with their children and some to scream. The man put on his clothes before police showed up and was not taken to police station. The reason for his nude frolic in the water was not immediately known.

I don't think parents start to scream when this would happen in Amsterdam. (posted by Jitze, 06/06/05)
---------------------
Gisteren zijn we teruggekomen van een tocht door Korea. We hebben een nieuw verhaal met foto's. (posted by Jitze, 06/06/05)
---------------------
Back after a trip to the South of the Korean Peninsula. We wrote a short story and added our pictures. (posted by Jitze, 05/06/05)
---------------------
Seoul's extreme make-over.
Today I read some good news in relation to the "Beautification Project" which the government runs in Seoul. Since July 2003 Seoul is getting a make-over: overpasses are taken away, cross roads are improved, bus lanes are replaced and the Chonggyecheon stream will flow again through Seoul like the old days. All this breaking down and constructing caused a lot of traffic jams and of course angry drivers like me. But the end is near, at least what the crossing of the Chonggyecheon concerns. Within two months this project will be finished and we can enjoy the rebirth of the C-stream. I also hope that the traffic problems will be over by then;) Take a look at the pictures, isn't it beautiful? I asume they will put some trees and plants on the sides and the make-over will be completed.
(posted by Christina, 02/06/05)
---------------------
Yesterday the sky became dark, at least in front of the Kyobo building where I work. Smoke from a Hyundai Starex, famous for quality and fire resistance . The police told that a mentally ill guy set fire on his Starex. I think it's really not sure he is mentally ill, he was probably just fed up with that lousy Starex bus (and be honest, who can blame him). (posted by Jitze, 02/06/05)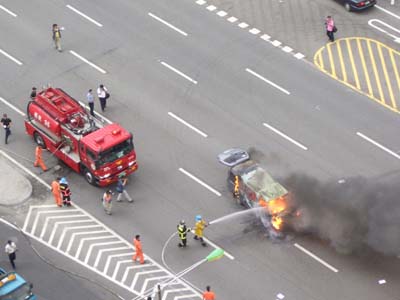 ---------------------
NO and NO and NEIN and finally NON! (posted by Jitze, 02/06/05)
---------------------
This one is great. A guy called Ramon Watkins claims he can make UFO's appear. He introduces himself on his website like this: My name is Prophet Yahweh, and it means: 'prophet of YAHWEH' etc. etc..

But now the amazing and best part. A news team from ABC news wanted to check his story. They decided time and location and Ramon started to pray. The camera's started and ..... something appeared in the sky. Look at this movie. What do you think, false or true? Anyhow, if you do not believe it you can always join SETI which is a scientific experiment that uses Internet-connected computers in the Search for Extraterrestrial Intelligence. You can participate by running a free program that downloads and analyzes radio telescope data. I did it years ago and as you can see on my personal SETI site we did not find anything so far. (posted by Jitze, 01/06/05)