Zofona > Zofona Seoul > Weblog South Korea > Archive weblog 2005 > weblog Korea May 05
---
weblog Korea May 05

---------------------
Bad news for us, good news for the Seoul taxi drivers . The price will rise by 17.5% tommorow! (posted by Jitze, 31/05/05)
---------------------
BBB stands for 'Before Babel Brigade'. If you find difficulties in communication with anyone in Korea call 1588-5644 and then press number '1', which is assigned to English. Then you will be directly connected to a volunteer who will help you with translating. On their website they provide more information including a list of supported languages. (posted by Jitze, 30/05/05)
---------------------
Image grabbing!. I just connected a camserver to our camera. When loading this page it shows you a real time snapshot of our camera. A red X in a frame means, camserver offline.



(posted by Jitze, 29/05/05)
---------------------
Hamburgers! The corner stone of any nutritious breakfast according to Samuel L. Jackson in Pulp Fiction. I think 'Freshness Burger' sells the best burgers in Seoul if you need them as your breakfast corner stone. Try the 'Freshness Burger' or the 'Bacon Omelet Burger' if you bump into one of their outlets. (posted by Jitze, 29/05/05)
---------------------
De Nederlandse club 'Hendrik Hamel' is opgericht op 1 juli 1995 met als doel tal van verschillende activiteiten voor de Nederlandse gemeenschap in Korea te organiseren. De website is pas in een nieuw jasje gestoken en bevat veel nuttige informatie voor Nederlanders in Korea.

The Dutch Club 'Hendrik Hamel" was established on July 1, 1995. Their purpose, organising all kind of activities for the Dutch community in Korea. The website has been renewed and contains good information. For English readers, they have good links. (posted by Jitze, 28/05/05)
---------------------
Friday evening. Time for the two of us to go out without Yde and Vibeke. First we had diner in that Vietnamese restaurant mentioned in our restaurant reviews. The food was very good again! Before going to a bar we went to a new bookstore, located in the basement of the Chongro tower. Bandi & Luni's bookstore has books, but we never expected a Burger King in any bookstore. When we took this picture, a staff member told us (no joke) we could not do it because of copyright, hahaha. After this we first bought a Star Wars III, revenge of the Sith dvd, already on sale at every streetcorner for the good observer.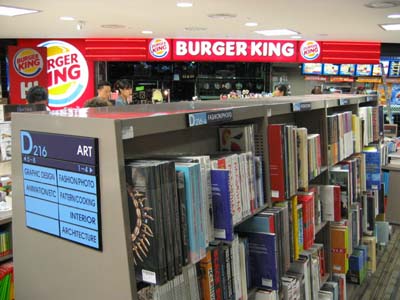 To stop laughing we went to several bars. That was not a good idea, you keep laughing when you order a 'B-52'. Drinking something that is burning does not seriously stop you laughing.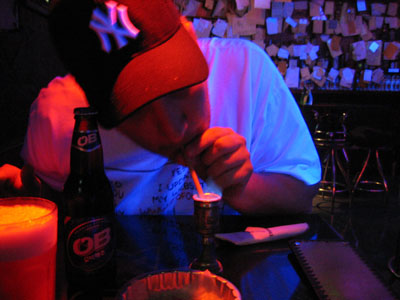 (posted by Jitze, 27/05/05)
---------------------
Today I went to a lunch organized for Mrs. Kok the wife of Mr. Wim Kok, Minister of State and former Prime Minister of the Netherlands. After the lunch we went to the Leeum, Samsung Museum of Art, where Mr.Kok joined us for a tour through the museum. It seems to be quite difficult to visit the museum, you have to let the museum know that you want to visit it two weeks in advance and bring your passport. Today, the tour was organized bij the Royal Netherlands Embassy and I was able to visit the museum without preparation. The Museum is a piece of art on its own, Mario Botta, Jean Nouvel and Rem Koolhaas were the architects who designed it and it is beautiful. Inside there is a museum with traditional art and a museum with modern art. At the entrance everyone received an earphone connected to a very small portable computer with all the necessary information in it. When you entered a black dot on the floor in front of a collection "treasure" (piece of art) then a nice voice told you everything about this item. This gives you the opportunity to do the tour the way you want, fast or slow. The Leeum museum was really worth visiting. (posted by Christina, 27/05/05)
---------------------
Added: tons of new info under City Information Seoul, especially for families who want to entertain the kids. (posted by Jitze, 26/05/05)
---------------------
The extinction of Korean men.
Today I was walking behind an old Korean man who was almost bald, but the hairs left on his skull were still black. It reminded me of my arrival in Korea, 3 years ago. I only saw men with black hair while they already should have turned grey. The younger generation men (even little boys) had very modern haircuts dyed in all colors of the rainbow. So now, in 2005, it is time to move on with the feminization of Korean men. While walking on the streets of Seoul, Jitze received a few times samples of cosmetic products for men. It seems to be a new trend and like a real Korean man does, he follows obediently without having his own opinion. If this development continues Korean men will be wearing lipstick and other make-up within a few years and the "pure" Korean man will be hard to find. Is my thought well-grounded? Read this article.(posted by Christina, 26/05/05)
---------------------
After a long night of making love, he notices a photo of another man on her nightstand by the bed.

He begins to worry.

'Is this your husband?' he nervously asks.

'No, silly,' she replies, snuggling up to him.

'Your boyfriend, then?' he continues.

'No, not at all,' she says, nibbling away at his ear.

'Is it your dad or your brother?' he inquires, hoping to be reassured.

'No, no, no!!!' she answers.

'Well, who in the hell is he, then?' he demands.

'That's me before the surgery.' (posted by Jitze, 25/05/05) ;)
---------------------
A few weeks ago I received a book about Kim Jong Il. Almost every paragraph contains the words "Comrade Kim Jong Il" what makes it look like a personality cult. What I found interesting were the notes on the last pages of the book, it is a summary of some words or ideas mentioned in the book. To me the book is a kind of propaganda, but if you have a North Korean point of view it might be an interesting history book. I also concluded that if everything written in this book is true, mr. Kim Jong Il is a very intelligent and hearty man. The editorial board of the Foreign Languages Publishing House publishes "Comrade Kim Jong Il's Brief History" to help those who want to know the history of Comrade Kim Jong Il's activities. I am sorry that I was not able to find a good link on this book, but if you are interested in Kim Jong Il take a look at this site. It has a lot of information about the current North Korean leader and his dad. (posted by Christina, 25/05/05)
--------------------
What makes Jitze happy??? Want to know? "Mezmerize"! Recently released in South Korea.
(posted by Christina, 25/05/05)
---------------------
We added the final story of Jos and Trees after their return to the Netherlands. Most of their stories about Korea are in Dutch. In some stories Jos writes in English about working in Korea. If you cannot read Dutch, at least look at the beautiful pictures in every 'maandbrief'.(posted by Jitze, 24/05/05)
---------------------
I ran into this website, since Jitze wants me to do more with our weblog. Soju as a Korean export product, unfortunately I have not seen this in The Netherlands yet. What do I know about soju? Well, only that Korean men drink this stuff during their lunch and diner and it is a popular drink in soap opera's, especially when people have a lot of problems. You see them eating and drinking in a food stall on the street and of course getting drunk. And that is possible since soju has an alcohol percentage of 24 per cent. Also it is very cheap overhere and for secret drinkers available in small carton boxes with a straw. For the heavy drinkers they invented big plastic cans of 4 liters minimum. So do not hesitate and find out more about the Korean number one drink. (posted by Christina, 24/05/05)
---------------------
We added a restaurant review.(posted by Jitze, 23/05/05)
---------------------
It's not the first time we posted something about Hanguel, the Korean language. But with this link you can learn it quickly because you can practise pronouncation, good luck! (posted by Jitze, 22/05/05)
---------------------
Jitze is very proud of his new T-shirt which he picked up today. 'Ome Coen' made the design. Even the cotton quality is ok and the print itself is very good, not a print they ironed on it. It looks like it is really pressed into the T-shirt. And this is the picture I took with the webcam. Jitze is very happy that the XXL size fits him.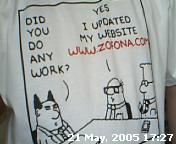 (posted by Christina, 21/05/05)
---------------------
Yesterday they finally removed the cast of Christina's leg. Now we can plan a short trip to the country side. I was wondering if there are some nice beaches in Korea. The only beaches we visited before were muddy (west side) or looked like a battle zone (east side) because of all the military equipment. Especially more to the North beaches are heavily protected against a possible invasion from North Korea. (posted by Jitze, 21/05/05)
---------------------
The Organisation for Economic Co-Operation and Development, in short OECD provides a lot of statistical information about Korea. It might be interesting if you want to know more about the development of Korea. Look at this example or choose information by topic on their site. (posted by Jitze, 21/05/05)
---------------------
The Korean Driver's license Agency, a must for almost every taxi driver in Seoul. You need them to change your international licende into a Korean license. Especially if you want to experience driving with 5 million people who just ignore mirrors, blinkers and lots of other basic 'safe' driving rules. They even have a top 28 of traffic accidents and settlement. (19/05/05)
---------------------
Why we order XXL T-shirts? Because the Dutch are the tallest people in the world and still growing! Although Korean students are getting bigger it is still a long way if they want to reach the top, hahaha. (19/05/05)
---------------------
Promotion of www.zofona.com? As mentioned before I received a 'www.zofona.com' T-shirt as birthday present. One of the earlier designs for the T-shirt involved a 'Dilbert' cartoon. The online ordering company could not make it because of copyright problems. In Korea it seems no problem at all. Last Sunday I ordered 10 T-shirts with this 'Dilbert' design at Nice T. This Saturday it should be finished, we will make a picture and hope everyone desperately wants a T-shirt.:) (18/05/05)

---------------------
If you want to translate words into Korean just try this little gadget. Also convenient if you want to practice your farsi. :) (17/05/05)


---------------------
What to do with digital pictures on your PC? Burn it on a cd, but still you don't have real pictures. And unless you have a high quality printer it's not interesting to print it. Today somebody told me you can upload it to this 'webhard' site. I Logged in with a name and password provided by the photoshop near my office. After uploading some pictures just call the photoshop and half an hour later you can pick up perfect pictures, it's cheap too. I am not sure if there are many photoshops providing this service in Seoul, just ask for it. (17/05/05)
---------------------
Elaphe Dione. It is likely that you don't know what this means. Well, it is a certain snake. We received a request from a (Dutch) snake collector who would like to meet Korean snake collectors. If you, by any chance, know collectors, please let us know through our contact form. Here you can look at the Elaphe Dione snakes. (15/05/05)
---------------------
People who now me (Jitze) know my music taste. One of them is metal (as well as hard rock, rap, sorry no love songs). It started with AC/DC when I was young. When System Of A Down released Toxicity I thought it was a great album. Don't know if I should call it hard rock, but it's just sounds right. Anyhow, System of a Down's Mezmerize — the first half of their double album Mezmerize/Hypnotize hits stores May 17. Just look at their new website because that one is great too. I am going to buy this album!! (14/05/05)
---------------------
Today I received my birthday present from 'oom Coen'. A great T-shirt. Look at me, www.zofona.com will become really big with promotion material like this. If you want to have a T-shirt like this, send us your Korea story/restaurant review etc. You might get one, new or used!! (13/05/05)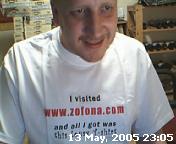 ---------------------
It works!! Radio ZOFONA is up and running. Live streaming music on the internet straight from our computer. Whenever we are playing music, you can listen to it, live! Choose zofona internet radio in the menu for more information. (12/05/05)





---------------------
What to think of the Germans? At least one guy is creative! He uses vegetable oil to cool down his computer. It seems he was fed up with the noise of the fan and vegetable oil apparantly doesn't conduct electricity. On this English forum you can probably tell him what you think he should do with vegetable oil. Slaolie computer zoals het op nu.nl staat. (12/05/05)
---------------------
'The Office of Investment Ombudsman' are, according to their website, troubleshooting on your behalf. What more do you want? Anyhow this site provides useful information, especially if you are new to doing business in Korea. The 'introduction to Korea' part is nice. If by any chance we have readers who are real investors, you should look at Invest Korea. (12/05/05)
---------------------
Public Behaviour
Acceptable public conduct in South Korea, finally we found it.;).

Third party introductions are usually preferred, so wait to be introduced to another at gatherings and parties.

The junior person will be the first to bow. The senior person will be the first to offer his hand. A weak handshake or nod of the head may be sufficient in business circles.

South Korean men greet each other with a slight bow, and sometimes an accompanying handshake, while maintaining eye contact, unless there's a significant hierarchy between the two. In handshaking, your right forearm is often supported by the left hand.

In South Korean business culture, professional women also shake hands. Western women will have to initiate a handshake with Korean men, unless a Korean man is higher than their status. In that case, he will initiate a handshake.

Elderly people are highly respected, so it is polite to greet and speak to them first, then spend a few minutes with them.

Complimenting an elder's good health is always appreciated.

You may also show respect towards older people or seniors by passing objects such as food or documents with both hands.

Bow at the beginning and end of a meeting.

For seasoned international business professionals, eye contact is important to indicate your sincerity and attentiveness to the speaker. However, some Koreans have difficulty in maintaining steady eye contact with an authority figure. Some men may also avoid eye contact with women.

Gestures such as touching someone on the back or on the person's arm are discouraged unless the individuals are friends and peers. Physical contact is inappropriate with older people, people of the opposite sex, or people who are not good friends or family. One exception, however, is that people of the same sex often hold hands.

When talking or laughing, keep your voice as quiet as possible.

Criticism of any kind should be done in private.

Like anyone else, South Koreans laugh when something is funny. Don't assume, however, that a smile is always an indication of amusement or approval. It can be used to mask embarrassment and other feelings of distress.

Feet are perceived as dirty and should not touch other people or objects. Men should take care that the soles of their shoes are pointing down. Don't cross legs in front of an authority figure in an open sitting environment.

Blowing your nose in public is considered vulgar. If heavily spiced Korean food makes your nose run, turn aside and blow it quietly. It will be even better to get up and move away from the table before blowing your nose.

You may beckon someone younger and junior by extending your arm with a palm down and moving your fingers up and down. Beckoning a person by moving an index finger toward you is considered very rude.

Cover your mouth when yawning or using a toothpick.

If the Korean national anthem is played in a public place, stand at attention out of respect.

You will probably see people on the street wearing surgical masks. They are wearing these masks when they have a cold. They are trying not to spread germs. (11/05/05)
---------------------
At this moment 'hot' news. Will North Korea test a nuclear device?
BBC News, a little bit yes and maybe.
The Korea Herald, strongly no.
CNN news, may be preparations.
Official North Korea website, nothing ever changes on this site.
Well, we will put this sign in our garden, just to be on the safe site.


(10/05/05)
---------------------
On the other hand, Pinkpop 2005 offers more than one artist in just 3 days. Ok, pinkpop is The Netherlands most famous open-air festival. It will take place for the 36th time in the city of Landgraaf, 134 miles from Amsterdam, near the city of Heerlen and situated in the most South bound province of Limburg. So if you are living in Seoul, and you have some spare time this weekend, take the plane to Amsterdam. We would if I too much time and money.(10/05/05)
---------------------
Pollstar, the concert hotwire. Search by city: Seoul. Showing Today to 05-03-2007 - One Item Found!! This doesn't look promising, not much international music this year :) (09/05/05)
--------------------
Sometimes when it stucks or crashes I would like to throw this computer out of the (XP) window(s). But there are people who can laugh after selling you lame software. For example, Paul Allen. Who? Look at this: "Paul Allen's yacht". If it does the same as XP I predict that it will definitely crash into something (like an iceberg) in the near future. (09/05/05)
---------------------



Because we are working on our restaurant review section we are looking for Korean food recipies. Look at those delicious pork heads. In fact, pork heads are mostly used in some kind of offer ceremony. It involves putting money in the mouth and burning incense. And here we found more Korean food recipies. By the way, we are waiting desperately for people living in Korea, to send us restaurant reviews. (07/05/05)
---------------------
Continued: lightshow, these are some small movies made with our digital camera (see topic 04/05/05).
Jean-Michel Quesne, lightshow at city hall Seoul, part 1
Jean-Michel Quesne, lightshow at city hall Seoul, part 2
Jean-Michel Quesne, lightshow at city hall Seoul, part 3
---------------------
Sunday we will go to the Lotus Lantern Festival parade. Every foreigner in Korea should see it, it's amazing. This site contains the information you need and the pictures are also very nice. (06/05/05)
---------------------
May 5, liberation day in the Netherlands, ascension day this year but for Koreans it is most of all Children's day. Yde and I went to the carrefour to do some shopping. Nothing but toys, happy children and free presents for Yde. We should have a day like this in the Netherlands. (05/05/05)
---------------------
Today, May 4, the Netherlands commemorates those who fell during World War II and in the Netherlands, at 20.00, there will be 2 minutes of silence. In South Korea the commemoration takes place at "The Dutch Forces in Korea monument" at Saemal, Hoengsong-Kun, Kangwon Province. Christina and I went there today to pay our respect to the soldiers who fought and died for freedom in South Korea. (04/05/05)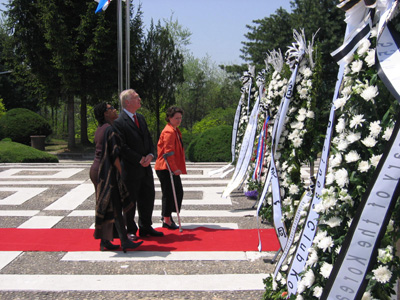 ---------------------
Yesterday Yde and I went to the light show at city hall. According to the Hi Seoul festival guide: Large-scale hi-tech light show based on the theme 'the history and culture of Seoul' presented by Jean-Michel Quesne, one of France's best-known light and projection artists. What we saw was really great (today and tommorow also shows!!) but unfortunately Yde got scared. The show started with thundering sounds and lightning projection on city hall. Look at these short movies made with our digital camera.
Jean-Michel Quesne, lightshow at city hall Seoul, part 1
Jean-Michel Quesne, lightshow at city hall Seoul, part 2
Jean-Michel Quesne, lightshow at city hall Seoul, part 3
Magnificent but not for Yde. Just two weeks ago he became scared of thunderstorms because of a huge storm at night. He started to panic and cry so I had to leave early. Tonight or tommorow I will go again to watch the whole show.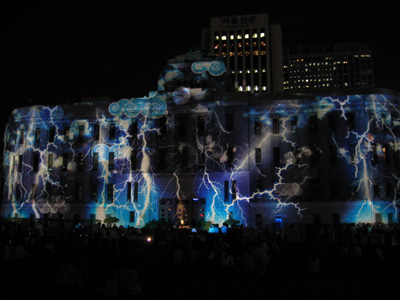 Amazing moving projection on city hall with sound support. (04/05/05)
---------------------
Last week during the opening exhibition in Owl's square we met a Korean lady who told us that she is working on a project for children in need. As far as we understood it is a project dedicated tor children from poor families. They will organize an exhibition with work made by these children. The galery in Sungbuk Dong is close to our house. Opening is on May 3rd, 6 pm at Sungbukdong gallery (next to Hansarang Pet shop). We received a link which is only in Korean, but we guess this banner on top probably says something about the project. (02/05/05)
---------------------
Saturday 30 april, Queen's day in the Netherlands. We were invited at the residence of the Dutch Ambassador. So far it was the warmest day this year. The temperature reached 30 degrees and there was plenty of Heineken (yeah, Dutch beer) to cool down. Apparently he also promoted Queen's day and the Netherlands in this newspaper. Anyhow, we had "bitterballen" and "haring", that's Dutch for softmeatcreamy, huh?, meatballs and herring. (02/05/05)
---------------------
This weekend no palace but the Hi Seoul Festival 2005. This annual festival is very well organized and we had fun watching all kind of performances. Yde even got a special balloon from a balloon artist. It looks like a bike and he is very proud of it. There are a lot of activities this coming week. On their website you will find all the information in English. (01/05/05)
---------------------