Zofona > Zofona Seoul > City information Seoul > Seoul traffic info
---
Seoul traffic info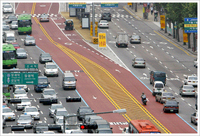 The best way to travel in Seoul if you want to be on time, by subway of course. Seoul Metropolitan Subway Cooperation provides all the information.

Also nice, realtime information about traffic congestion. Only in Korean but just click and discover the webcams on this page.

+++++++++++++++++++++++++++++++++++++++++++++++++++
I read an interesting article: Bus transportation: how to make sense of the maze?

It mainly describes how the bus system works (blue, green, red and yellow busses) but they also write something about the T-card (available at subway stations) and free transfers between bus-bus and bus-subway. Read this article and find out how the Seoul bus system works!

On the Seoul Metropolitain Government transport site I read what the colours of the busses mean, interesting..... Also they give some info about the express busses to other mayor cities in South Korea (schedules and prices).

08/09/2005
+++++++++++++++++++++++++++++++++++++++++++++++++++
Taxi Fares Rise by 17.5% in Seoul

Taxi fares in Seoul will be raised by 17.52 percent from Wednesday, the municipal authority said Tuesday.

The increase is designed to provide better services to passengers as well as help tax operators ride out their financial difficulties.

Taxi drivers will also get better pay following the fare hike.

The basic fare of a regular taxi will rise from the present 1,600 won to 1,900 won and an additional 100 won per 144 meters from the current 100 won per 168 meters.

A deluxe taxi will see a basic fare hike of 500 won to 4,500 won.

05-31-2005 21:51
+++++++++++++++++++++++++++++++++++++++++++++++++++
Severe traffic jams on median bus lanes have been improved since the new bus system took effect on July 1, 2004.

As of July 5, the first Monday since the new transportation system was introduced, the average speed of buses running on the median bus lanes increased by 32.6 percent over the last month.

The bus lanes on Gangnamdaero suffered from heavy traffic clogging, mainly due to Blue and Red Buses that thronged into the lane at the same time. The Blue Bus is an inter-regional bus operating at higher speed and connecting suburban areas to downtown Seoul and the Red Bus is an express bus run between downtown Seoul and the metropolitan areas.

To relieve traffic congestion in rush hours, the city government changed bus lanes for the Blue Bus No. 144, 145, 146 and 360 from the median bus lane to the outer one as of July 3, and 12 Red Buses including No. 5001, 5002 and 1550 as of July 5 accordingly, the bus stations have been also changed.

As a result of these changes, the reported average speed of automobiles indicated 19 kilometers per hour and that of buses at 17.6 kilometers per hour, which is an increase of 6 percent and 35.5 percent respectively.

Meanwhile, ordinary lanes on Dobong, Miaro, Suseak and Seongsanro were congested because of the Green Buses that were not allowed to enter the median bus lanes. In swift response the government allowed Green Buses No. 1018, 1019, 1148, 1151,1217 and 1219 to use the median bus lanes.

The average speed reported of buses on Dobong and Miaro was 17.2 kilometers per hour and that of buses on Suseak and Seongsanro was 20 kilometers per hour, which is a figure up by 56.6 percent and 52,3 percent, respectively.

The government plans to steadily monitor the newly introduced the median bus lane system, to provide citizens with better traffic conditions.

++++++++++++++++++++++++++++++++++++++++++++++++++++

By Moon Gwang-lip, The Korea Times

Traffic volume in Seoul decreased 5.9 percent in October from September last year, largely due to the new mass transit system, soaring oil prices and the system requiring drivers to not drive their cars for one day per week, Seoul City reported Sunday.

According to a survey conducted by the city along with the Seoul Metropolitan Police Agency, traffic volume fell from 8.55 million in September 2003 to 8.07 million in October.

The daily average number of vehicles passing through downtown amounted to 1.13 million, down 9.1 percent from last year's 1.25 million, and that of vehicles using main roads in the city decreased 6.3 percent with 2.71 million from 2.89 million in 2003.

The daily traffic volume in areas adopting the bus-exclusive main line system, launched as part of July's new mass transit system, dropped considerably. Only buses can use the center lane under the new system.

Gangnamdaero, or the Gangnam Road in southern Seoul, witnessed a traffic volume decrease of 26.3 percent in October from September last year. Songsanno in Susaek, northwestern Seoul, recorded a 23.3-percent decrease, and Miaro in northern Seoul recorded a 27.2 percent drop.

"Several factors, such as the implementation of the bus-exclusive median lane system, the oil price surge and encouraging drivers to not drive one day a week, pulled down traffic volume in Seoul and increased the number of mass transit users instead," a city official said.

The average number of mass transit users per day rose 12 percent from last year's 9 million to 10.1 million in Seoul.

The number of Seoulites using the subway amounted to 4.71 million per day, up 10.6 percent from 4.26 million a year ago and that of bus users came to 5.44 million, up 13.3 percent from 4.8 million last year.